Early years healthy eating
Early years are the best time to encourage children to develop healthy eating habits. They are developing their food tastes at this age, so helping them in making healthy food choices can benefit their health. Long-term health can also be greatly improved by encouraging good nutrition.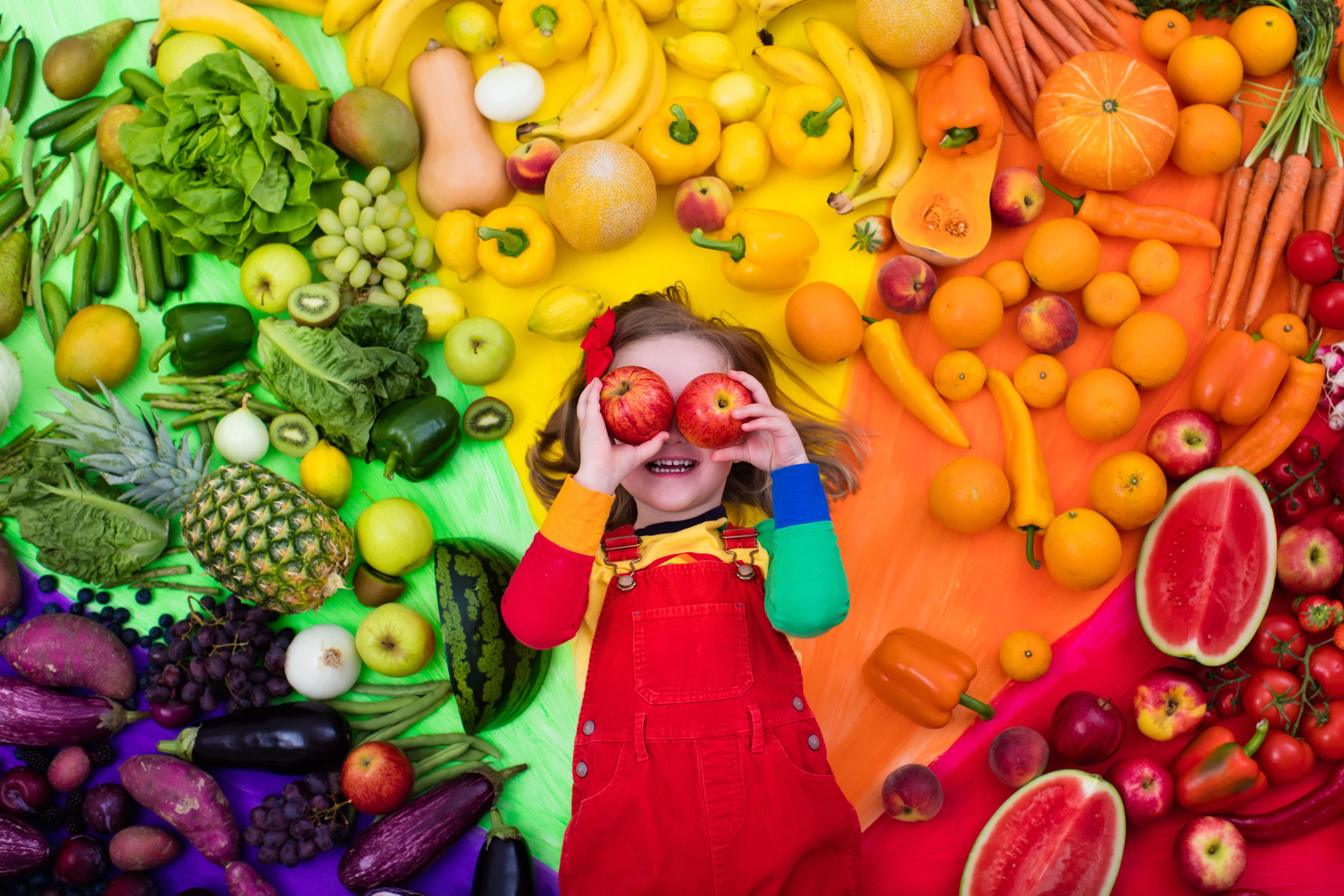 Weaning:
Weaning begins around six months of age. Solid foods should not be introduced before the age of four months. You can begin weaning with single vegetables and fruits such as parsnip, broccoli, potato, yam, sweet potato, carrot, apple, or pear that have been blended, mashed, or soft-cooked. Before giving your baby any cooked food, make sure it has completely cooled.
After 6 months, your baby only requires a small amount of solid food once a day.
It is important to introduce foods that can cause allergic reactions one at a time, in very small amounts, so that any reaction can be detected. These foods, like any other, can be introduced into your baby's diet as early as 6 months of age:
         Cows milk (in cooking or mixed with food)
         Eggs (eggs without a red lion stamp should not be eaten raw or lightly cooked)
         Foods that contain gluten, including wheat, barley, and rye
         Nuts and peanuts (serve them crushed or ground)
         Seeds (serve them crushed or ground)
         Soya
         Shellfish (don't serve raw or lightly cooked)
         Fish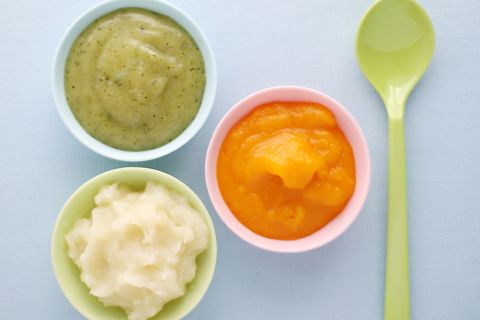 Recipes: Purees for Babies
Sweet potato with spinach and peas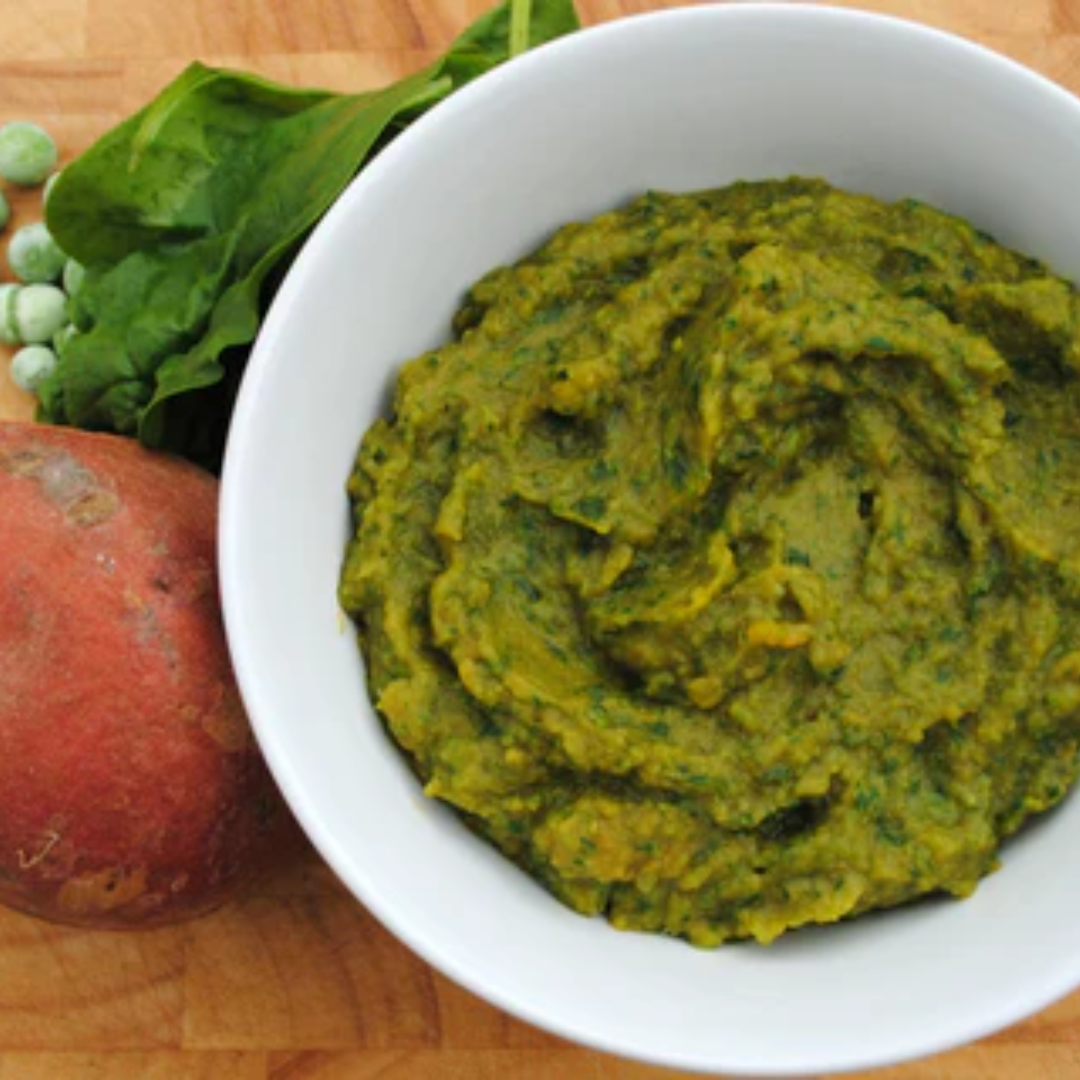 Ingredients:
          20g Butter
          1 Small leek, finely sliced
          1 medium sweet potato, peeled and chopped
          200ml water
          50g frozen peas
       75g spinach, stalks removed 
    Instructions:
     Melt the butter in a saucepan and saute the leek for 2-3 minutes until softened. Add the sweet potato. Pour over the water, bring to a boil, then cover and simmer for 8 minutes. Add the peas and spinach and cook for 3 minutes. Puree the vegetables in a blender to a smooth consistency. 
Peach and banana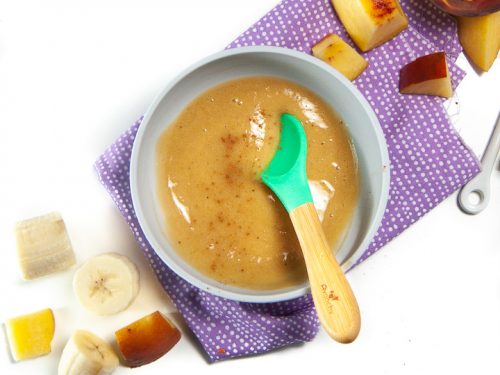 Ingredients:
            2 medium peaches, peeled and chopped
              2 medium bananas, peeled and sliced
           2-3 tablespoons apple juice
               2 tablespoons baby rice 
Instructions:
Put the peach, banana, and apple juice into a saucepan and simmer for 2-3 minutes. Puree in a blender and thicken with a little baby rice if necessary. 
 Yoghurt, mango and banana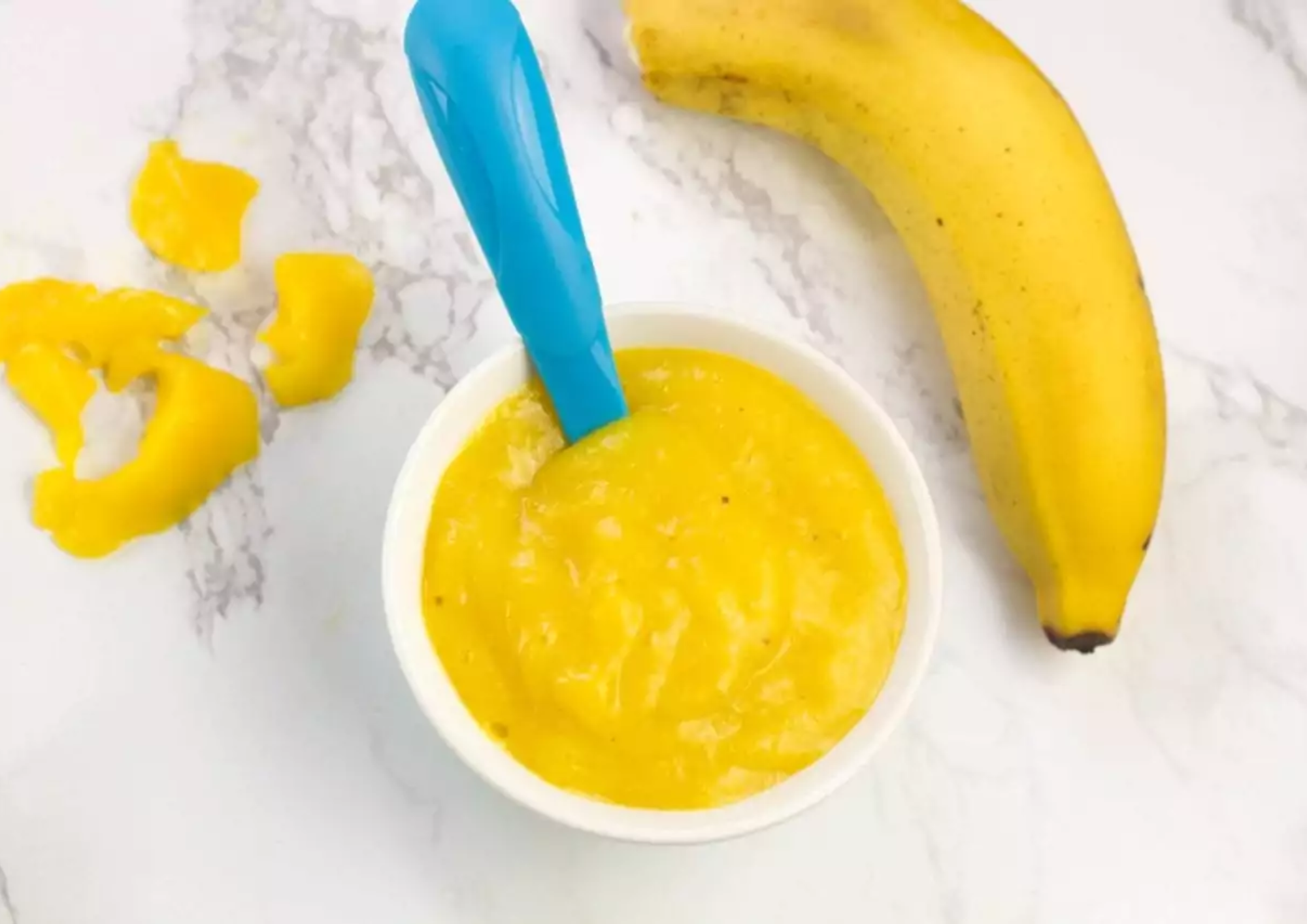 Ingredients: 
               1 medium mango, peeled and chopped
à       2 medium bananas, peeled and sliced
à      200g Greek yoghurt 
 Instructions
 Place the ingredients in a blender and puree to the desired consistency.
Healthy eating for toddlers
Children at this age grow quickly and are usually very active, so they require a lot of energy and nutrients. A nutritious and varied diet should provide all of the nutrients required by a toddler.
Foods should include:
Bread and other grains such as rice, pasta and breakfast cereals, also potatoes, yams and sweet potatoes. All these starchy foods provide energy, vitamins, minerals and fibre.
Fruits and vegetables are high in vitamin C and other essential vitamins and minerals, as well as fibre.
Milk and dairy products are excellent sources of calcium, which is essential for bone health. They also provide protein, vitamins, and minerals, which benefit children's energy levels.
Meat, fish, eggs, beans, peas, and lentils are high in nutrients like protein, vitamins, and minerals.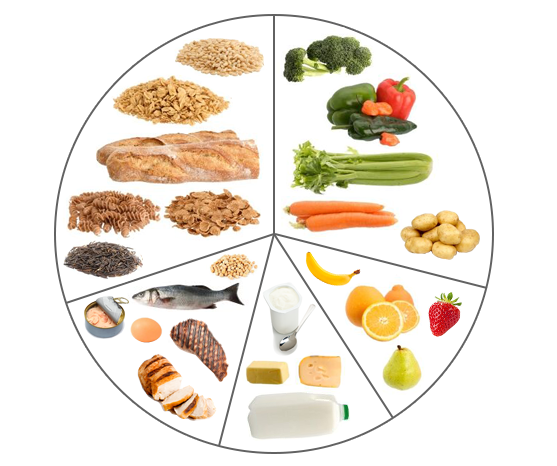 Recipes: Toddlers
Banana Pancakes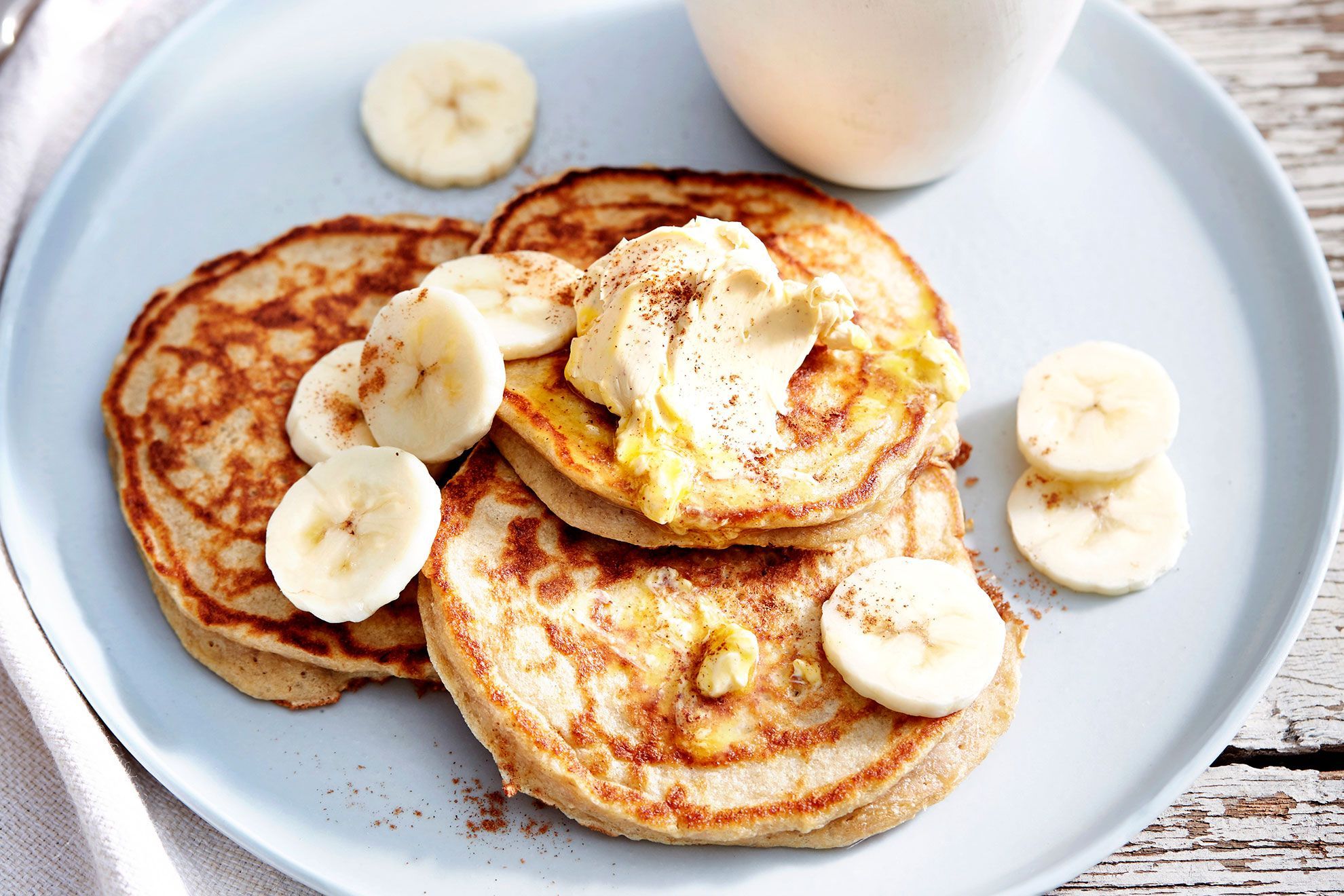 Ingredients:
Banana (Ripe banana with a couple of brown spots on it.)
Egg
Flour (All-purpose, white whole wheat, oat flour or a one-for-one gluten-free flour works.)
Cinnamon
Instructions:
Mash: in a medium bowl, mash the banana until very smooth with only a few lumps.
Mix: add in the flour, egg and cinnamon (if using) and mix until everything is combined.
Cook: heat a medium skillet over medium heat, spray with cooking spray or add a little butter if needed. Drop one tablespoon of batter on the skillet and let cook for 3-4 minutes or until the sides are starting to become firm and the bottoms are golden brown. You will not see any bubbles like traditional pancakes. Flip and cook for another 2-3 minutes or until golden brown.
Serve: let cool slightly and serve.
Veggie Pasta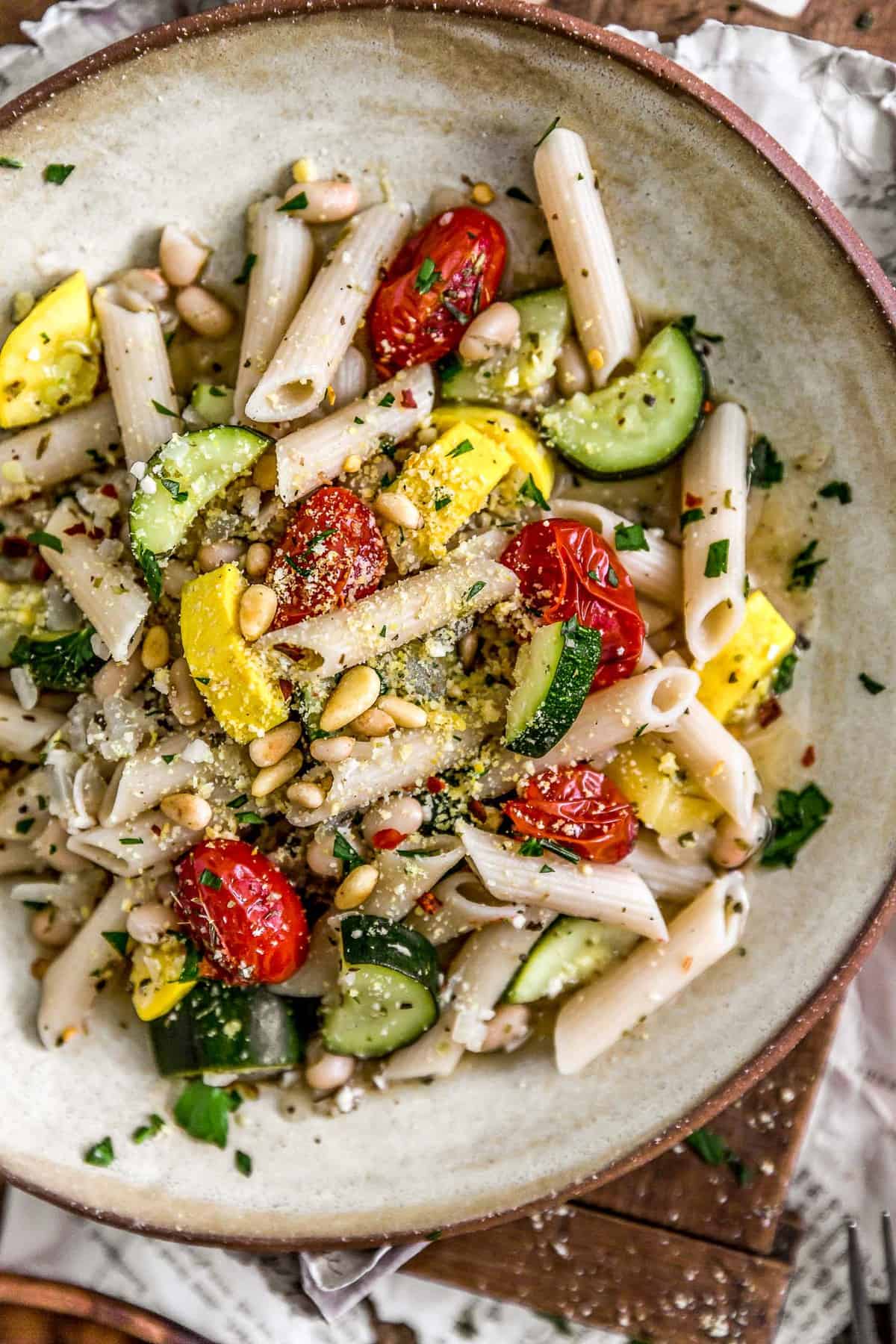 Ingredients:
         1 cup pasta of choice original, whole wheat, gluten free, lentil, bean, etc
                1 cup mix of chopped vegetables fresh or frozen
               2 tablespoons olive oil
               2 teaspoons dried basil
             1/2 teaspoon garlic powder
               2 tablespoons parmesan
Instructions:
Fill a large stockpot 3/4 the way full of water, and bring it to a boil. Cook pasta according to package. If using fresh vegetables when you have 2 minutes left on the timer, add the vegetables to the pasta water. If using frozen vegetables when you have 4 minutes left on the timer, add the vegetables to the pasta water.
Meanwhile, stir together the olive oil, garlic powder and dried basil. Set aside.
Drain the pasta and vegetables.
In the same stockpot, add the cooked pasta, vegetables and olive oil mixture. Toss to combine. Sprinkle with parmesan and serve.
Chicken and carrot meatballs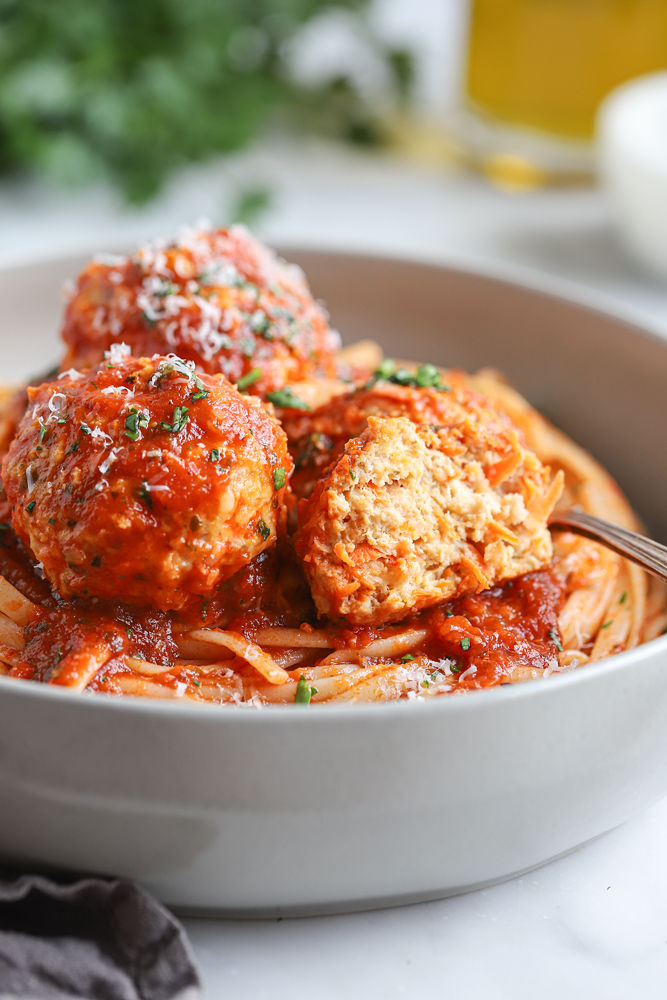 Ingredients:
           1 lb ground chicken or turkey
               1/4 cup applesauce or apple puree
               1/2 cup shredded carrot
                1/2 cup chopped spinach
               1/4 cup chopped green onion
                1 egg
                 1/2 cup breadcrumbs
                 1/2 tsp cumin
             Salt and pepper, to taste
 Instructions:
       Preheat the oven to 400 degrees F. Line a baking sheet with parchment paper, silicone mat or tin foil.
          In a large bowl, place all of the ingredients. Gently fold together with your hands or spatula until everything is well incorporated. Let sit for 5 minutes.
         Roll the meat mixture into 1 ball. I find it helps to wet your hands throughout the process.
        Place the meatballs onto the baking sheet and bake for 15-20 minutes or until the meatballs are cooked through and gently browned.