Lockdown is tough, and lockdown, when it's freezing outside, is even tougher. Going outside and playing games when it –0° doesn't sound as appealing as it did in the sunny summer months.  

However, regardless of the weather, the need for us all, especially children, to get moving, is greater than ever. 


Not only is exercise great for their body and mind, with the following, they will be guaranteed to have lots of fun!
Dance: 
It's safe to say, whether you hate it or love it, TikTok is here to stay, and we can see why. Children love TikTok and learning dances from there is a sure way to keep them entertained while exercising! 
Also, TikTok allows parents to set time limits, filter mature content, and disable direct messaging for children's accounts. You can enable time limits and the content filter on your child's phone and protect the settings with a passcode.


If TikTok isn't your thing, there are loads of really fun dances, suitable for all ages, available on YouTube, here are ones we think you'll love:


·       This is a lovely one for smaller kids, they will have a big smile on their face while exercising and learning different parts of the body https://www.youtube.com/watch?v=LO9QAUbtwxo
·       Frozen themed ballet dance for kids https://www.youtube.com/watch?v=BSf-g9yWYK4
·       Lovely, upbeat dance along https://www.youtube.com/watch?v=6JPVKD_UT-Q
·       Fun for all ages dancing to these https://www.youtube.com/watch?v=sHd2s_saYsQ


Exercise games:
Exercises can be made into fun games, to keep kids entertained and more interested! You could try fitness bingo and spell your name activities such as these: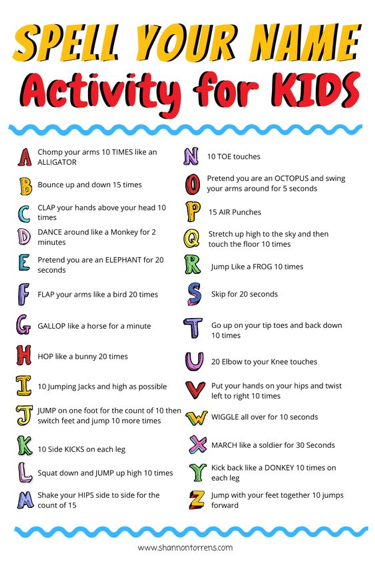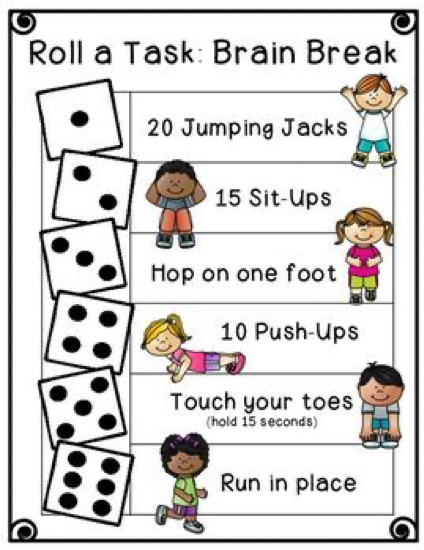 Images: Pinterest
Yoga: 
Yoga can be really fun for kids, and a great way to help them relax when they are upset or worried. Make it more entertaining for them by pretending to be their favorite animal, just like here: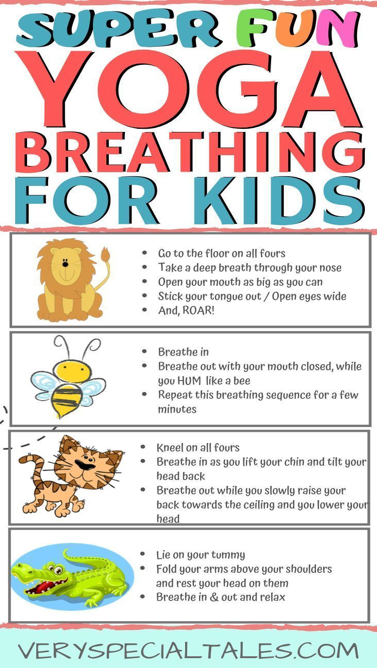 Cosmic Kids Yoga is a lovely YouTube channel where you will find loads of yoga classes kids will love: https://www.youtube.com/channel/UC5uIZ2KOZZeQDQo_Gsi_qbQ
Challenges:
Challenges are very popular online at the moment; they are a really great way to stay motivated. For children, as well as adults! You could have a reward chart to keep children motivated to keep going. Here is a challenge we think kids will love: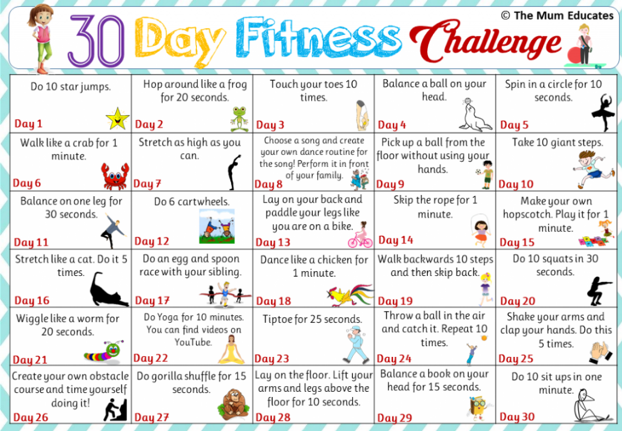 Image: Pinterest
We hope you enjoy these activities to keep kids moving at home. Let us know if you give any of these a try! J