Valentine's Day Activities for kids
Valentine's Day is fast approaching and this year, more than ever, it's so important to share some love: we all need something to cheer us up! 
So, with that in mind, we have compiled lots of fun, simple, lovely ideas of how you can celebrate the day with little ones, in the nursery or at home.  
 
Arts and Crafts: 
Valentine's Day is a brilliant chance to get creative. Handmade cards are the best cards, check out the ones we think you will love below!  

Caterpillar Hearts:  

You will need: 
Coloured card, white card, glue, black marker, googly eyes (optional) 
 
What to do: 
1. Cut out five small hearts out of different coloured paper (these are for the caterpillar's body) 
2. Cut out one larger heart, about double the size of the other hearts (this is for the caterpillar's head) 
3. Glue the smaller pieces of hearts to one another, in a line, and glue the big heart to the top of this line of hearts, to make a caterpillar 
4. Glue the caterpillar onto a white card 
5. Add facial features and legs onto the caterpillar using a marker and googly eyes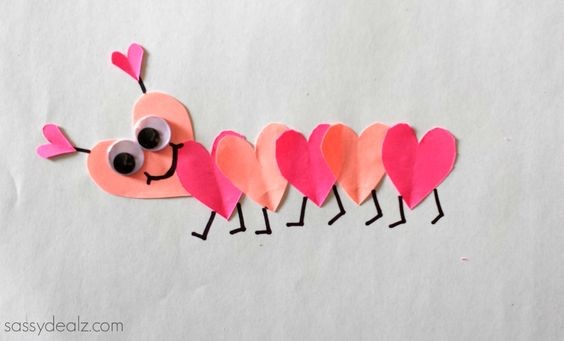 Bubble Wrap Printed Hearts: 

You will need: 
Bubble wrap, paint, white card 


What to do:  
1. Using a large heart template, cut out a heart shape in bubble wrap. 
2. Paint the bubble wrap heart 
3. Press the bubble wrap heart into the cardboard, make sure to press along all of the edges.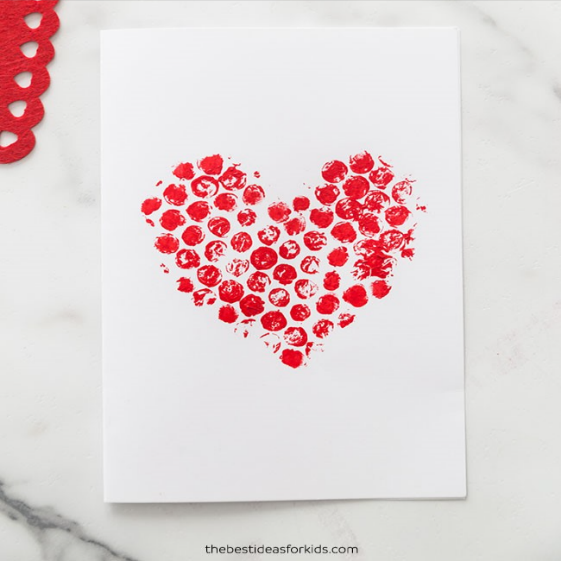 I Love You to Pieces: 
 
You will need: 
Colourful card, white card, black marker, glue. 
What to do: 
1. Cut up little rectangular pieces of colourful card.  
2. Using the marker, draw a heart on white card  
3. Glue the pieces of colourful card inside the heart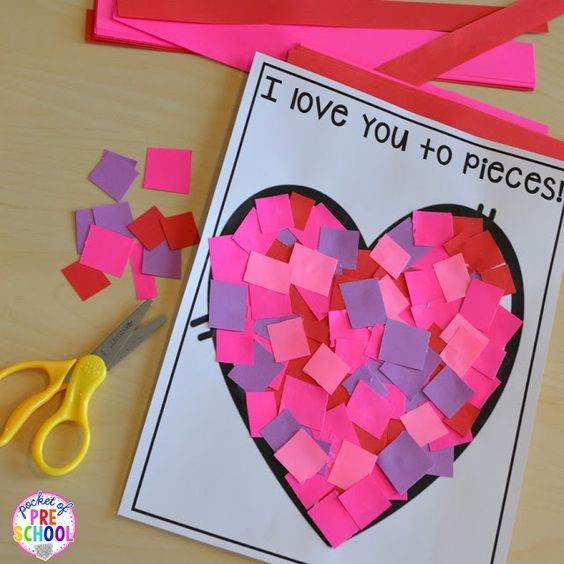 Books:  
Happy Valentine's Day, Curious George by N. DeAngelo 
I Would Tuck You In by Sarah Asper-Smith 
Fancy Nancy Heart to Heart by Jane O'Connor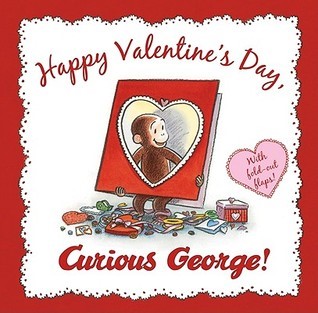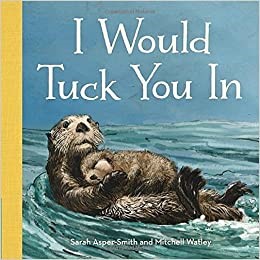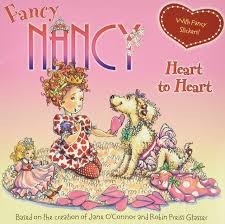 Movies: 
Gnomeo and Juliet:  
The tale of two garden gnomes living in neighboring gardens falling in love. They must fight for their love as their human owners' feud over whose garden is the best. 
 
Shrek: 
A classic hit for any time of year, follow the tale of an ogre, Shrek on a quest to save a beautiful Princess, Fiona.  
 
Trolls: 
Candy-coloured and full of cheer, this movie is all about spreading the love!